Hemet Coin Club 
THE BEST LITTLE COIN CLUB IN 
SOUTHERN CALIFORNIA
As you may have noticed on the masthead page, and as noted above, we have received 2 prestigious awards for the quality of the club newsletter. We were awarded, 1st Place "Presidents Award, Club Publication Award" by the Numismatic Association of Southern California, and 2nd Place "Outstanding Local Numismatic Publication" by the American Numismatic Association. As the newsletter editor, I attended the awards banquet held during the Golden State Coin Show and was presented both certificates. 
Mary Ann and Jerry Bodenhorn both resigned their positions at the last meeting. A plaque was presented to Mary Ann and Jerry in recognition of their dedicated service to the club at the August meeting. Thank You, Mary Ann and Jerry!

At the February 2017 meeting Jerry Bodenhorn made a special (and surprise!!) presentation to Jim Phillips in appreciation of his "Over the Top" service to the club. THANK YOU!!
2017
CHRISTMAS PARTY PHOTOS!!!
(May 2016) Last month I published a note about the "Honor Flight Network" and Bob Kozels' selection as an Honoree on the April flight. After I sent it out, I also heard that Angus Bruce has been chosen to fly to Washington on the June Honor Flight and that he had also previously been on an Honor Flight to the World War II museum in New Orleans. This flight had been sponsored by the Gary Sinise Foundation and Gary Sinise actually travelled and served the vets on the flight! Bob and Anguswere chosen for their service in WWII and it is a well deserved honor! Thank You, Bob and Angus! I found this picture on the Honor Flight website (honorflightie.org) of Angus from the New Orleans trip.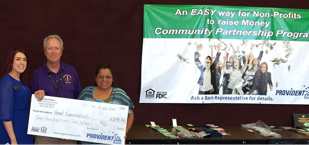 (May 2016) Provident Bank presented us with a check for our participation in the Community Partnership Program. By designating Provident Bank personal accounts as "linked" accounts the bank pays interest to the chosen organization based upon the group combined account balances. It is a wonderful way for the local Bank to support community groups and encourages patronage at the local supporting bank! 
We also presented (aided by Jim and Cath Phillips' service dog in-training, Autumn) the Provident bank a "Certificate of Appreciation" for allowing us the use of their Community Room and their support of the club for the year 2015!

(May 2016) Jerry Bodenhorn presented "Certificates of Excellence" to club members and officers Ken Busby (Past President) and Jim Phillips (Past President and current Corresponding Secretary). Ed. Note:Thanks Everyone!
Cath Phillips gave us an update on the upcoming turn-in of Autumn, our service dog in training that has made appearances at club meetings in the past. She willbe turned in for advance training on 13 May and we have hopes of her completing her training and being paired with someone that needs her skills!
Jim Phillips, (center) , Club Secretary and Newsletter Editor
receiving the award for "Best Club Newsletter (Second Place)"  at the NASC Awards Banquet held 22nd August 2105.
At our July meeting Ed Jerse (new owner of Hemet Coin and Stamp) did a wonderful presentation on the coin business and how he got his own start in the coin business. Pretty tasty looking cupcakes there, too!
Our esteemed president (Ken Busby) doing his June PowerPoint presentation about him and his wife, Ellen's, trip through a number of National and State Parks.
Cathy Phillips being presented an Appreciation Certificate for her Brig Service Dog Training Program 
Dolores Bradford accepting an Appreciation Certificate on behalf of the Provident Bank
In Memorium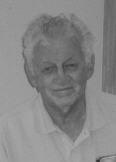 I am sad to report the passing of George Posposil on the 19th of December after a long illness. He and his wife, Dorothy, have been long time members and supporters of the club and our club is the lesser with this loss.
2015
CHRISTMAS PARTY!!!
We had an excellent meal and some wonderful conversation followed by our esteemed President Ken Busby presenting the Annual Club Appreciation Awards!!
Ken Busby presenting Mary Ann and Jerry Bodenhorn the "Trumpower Award" for 2015
Ken Busby presenting Rafael     Ken Busby presenting Phil
Flores his 2015 "Presidents      DiAugustino his 2015 
Award!!"                                   "Presidents Award!!"
Jim Phillips presenting Harold Katzman an Appreciation Certificate for his club support at the NASC Board meeting held on the 15th of November. Congratulations!
The Hemet Coin Club enjoyed an excellent picnic in May!
Picnic  Photos Compliments of  the Bodenhorns
Just a couple of photo's from the April meeting!
Club Photos Compliments of  the Bodenhorns

In Memorium

Past President and long time NASC volunteer
Freddie Grant
Passed away on January 6th.  Our condolences to her immediate family and to her extended NASC family.
Congratulations to Angus Bruce for being selected as "Numismatic Luminary" for the Spring Edition of The California Numismatist! Below is a reprint of the article from the issue.
Our own Angus Bruce has been selected as the recipient of the NASC Richard C. Goodson Award for the year 2012. This award is presented for lifetime service to NASC and has been awarded annually  since 1967. This award is accompanied by a perpetual Plaque, a personal Award Plaque, and a Certificate of Award! 
(Angus Bruce on right, being presented the NASC Richard C. Goodson Award for 2012 by Hemet Numismatists Club President Ken Busby)

Congratulations to Angus Bruce!!!
The Hemet Numismatists Newsletter has been awarded 2nd Place for 2012 Outstanding Club Bulletin! Congratulations to Jim Phillips as Newsletter Editor!!
(Jim Phillips being presented, by his wife Cathy, the NASC Outstanding club Bulletin (Second Place) Award for the year 2012
This is the recognized website for the Hemet Coin Club
Copyright © 2015 Hemet Coin Club. The original contributors retain the copyright of certain portions of this site.

For errors or corrections on the website, please Contact the WebMaster